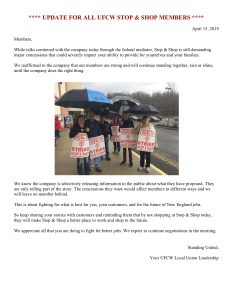 While talks continued with the company today through the federal mediator, Stop & Shop is still demanding major concessions that could severely impact your ability to provide for yourselves and your families.
We reaffirmed to the company that our members are strong and will continue standing together, rain or shine, until the company does the right thing.
We know the company is selectively releasing information to the public about what they have proposed. They are only telling part of the story. The concessions they want would affect members in different ways and we will leave no member behind.
This is about fighting for what is best for you, your customers, and for the future of New England jobs.
So keep sharing your stories with customers and reminding them that by not shopping at Stop & Shop today, they will make Stop & Shop a better place to work and shop in the future.
We appreciate all that you are doing to fight for better jobs. We expect to continue negotiations in the morning.